K. Barbara Schowen
---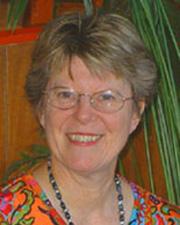 Contact Info
3035 Malott Hall
Lawrence
1251 Wescoe Hall Dr
Lawrence, KS 66045
---
Education
—
B.A., Wellesley College, 1960
Ph.D., Massachusetts Institute of Technology, 1964
Specialization
Solvent Effects on Mechanisms of Enzyme-Catalyzed Reactions
Research
—
Research Interests 
Organic chemistry: bioorganic reaction mechanisms, enzymic and proton-transfer catalysis, solvent effects, solvent isotope effects.
Selected Publications
—
Schowen, K.B.; Limbach, H.-H.; Denisov, G.S. and Schowen, R.L., "Hydrogen bonds and proton transfer in general-catalytic transition-state stabilization in enzyme catalysis," Biochimica et Biophysica Acta, 2000 1458, 43-62.
Tian, J.; Tan, J.; Schowen, K.B. and Schowen, R.L., "The Role of the Medium in Solvent Isotope Effects on Serine Protease Action," Can. J. Chem., 1999, 77, 781-786.