More Than 600 Attend KU's Carnival of Chemistry
---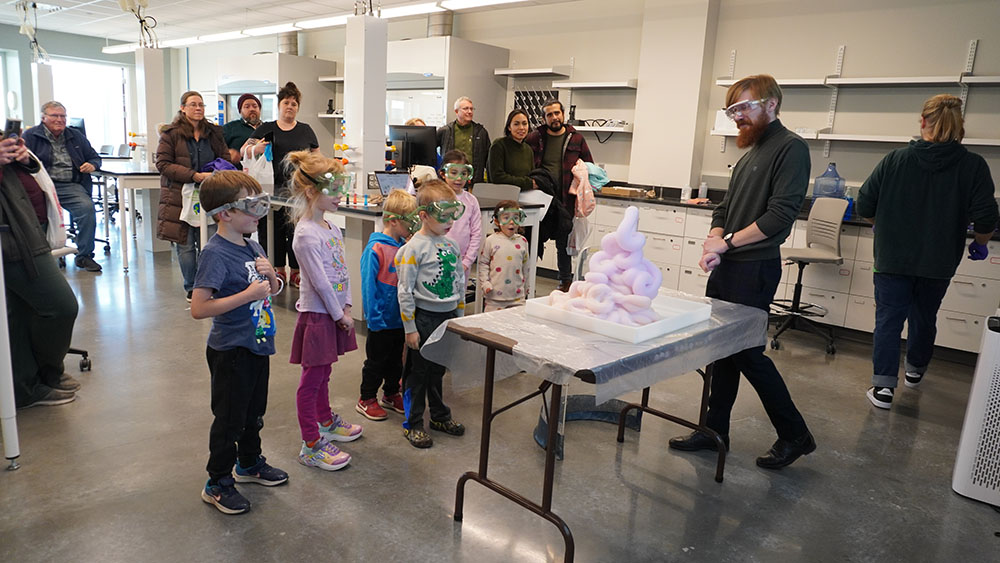 The University of Kansas Department of Chemistry recently hosted the annual Carnival of Chemistry, a free celebration with activities geared toward students in kindergarten through eighth grade. This was the first in-person Carnival of Chemistry since 2019.
This year's carnival, which took place Nov. 20 in Gray-Little Hall, offered more than 20 unique activities and demonstrations spanning three floors. The event had a focus on the Chemistry of Fabulous Fibers but also had a healthy mix of chemistry, physics, engineering and geological science activities. The department welcomed more than 600 attendees who enjoyed activities such as no-touch putt-putt (electrostatics), cereal flake races (magnetic properties) oobleck (non-Newtonian fluids), slime, CO2 bubbles and tie-dye butterflies.
"This carnival was one of the best I have ever seen. It was very special to have such a success in both activities and attendance after taking a two-year break due to the pandemic.  We really brought it back in a grand way, and I hope we inspired some future chemists," said Robert Dunn, professor and chair of the chemistry department.
The department recruited more than 100 volunteers for the event, sourcing from local high schools, its undergraduate and graduate student population, KU Medical Center respiratory therapist undergraduate students, faculty, staff and others.
This event was made possible by support from the following sponsors: KU's chemistry department, KU Chem Club, Eileen's Cookies, ACS Wakarusa Valley Local Section and Hy-Vee.