Michael Rubin
---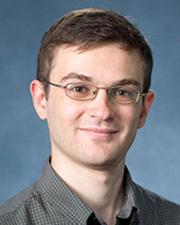 Contact Info
3152B GL (ISB)
Lawrence
1567 Irving Hill Rd
Lawrence, KS 66045
---
Education
—
B.S., Moscow State University, 1994, Moscow, Russia
Ph.D., The Moscow State University, 1998, Moscow, Russia
Visiting Research Fellow, University of Wales, 1996, Bangor, UK
Visiting Research Fellow, Université de Paris Sud, 1997, Orsay, France
Postdoctoral Research Associate 1999-2003, University of Illinois at Chicago
Research Assistant Professor 2003-2005, University of Illinois at Chicago
Specialization
Synthetic Methodology
Transition Metal Catalysis
Physical Organic Chemistry
Research
—
One of the directions of our research concerns the development of a novel family of chiral ligands employing a rigid cyclopropyl backbone for asymmetric transition metal catalysis. Significant conformational constrains and a well defined geometry make a three-membered carbocycle a unique, light weight, and rigid ligand platform capable of efficient stereo- and regiocontrol. This project integrates synthetic and theoretical approaches and invovles the elaboration of new methodologies towards phosphorous-containing cyclopropanes, synthesis of organometallic complexes, and development of new catalytic processes utilizing novel catalysts.
Another aspect of this project stems from the fact that some nucleotide mimics possessing a cyclopropyl phosphorous fragment exhibit potent antiviral and antimalarial activities. Accordingly, development of synthetic methodologies towards phosphorous-containing cyclopropanes is also aimed at expanding the pool of versatile cyclopropylphosphonate derivatives available for biological screening and providing additional tools for structure optimization en route to more selective drug candidates.
In the frame of a multidisciplinary project initiated by the Center of Environmentally Beneficial Catalysis, our group is involved in the design and development of new, environmentally benign transition metal-catalyzed processes for manufacturing of commodity and specialty chemicals. This includes synthesis and testing of new catalyst systems, optimization of reaction conditions, and adaptation of existing transition metal-catalyzed methodologies to CO2-expanded organic and ionic liquid media. One of the examples of such processes, currently being developed in our laboratories, is the synthesis of non-steroidal anti-inflammatory drugs via the Rh-catalyzed asymmetric hydroformylation and Mn-catalyzed oxidation in aqueous media.
Selected Publications
—
Aksenov, A.V.; Aksenov, N.A.; Aleksandrova, E.V.; Aksenov, D.A.; Grishin, I.Y.; Sorokina, E.A.; Wenger, A.; Rubin, M. Direct Conversion of 3-(2-Nitroethyl)-1H-Indoles into 2-(1H-Indol-2-yl)Acetonitriles. Molecules 2021, 26, 6132. https://doi.org/10.3390/molecules26206132.
Dmitrii A. Aksenov, Alexander V. Aksenov, Lidiya A. Prityko, Nicolai A. Aksenov, Liliya V. Frolova, Michael Rubin. Methylation of 2-aryl-2-(3-indolyl)acetohydroxamic acids and evaluation of anti-cancer activity of the products.  Molbank2022, M1307. https://doi.org/10.3390/M1307
Alexander V. Aksenov, Elena V. Aleksandrova, Dmitrii A. Aksenov, Anna A. Aksenova, Nicolai A. Aksenov, Mezvah A. Nobi, Michael Rubin. Synthetic studies towards 1,2,3,3a,4,8b-hexahydropyrrolo[3,2-b]indole core.  Unusual Fragmentation with 1,2-Aryl Shift.  J. Org. Chem.2022, 87, 1434−1444. DOI: 10.1021/acs.joc.1c02753.
Alexander V. Aksenov, Nikita K. Kirilov, Nicolai A. Aksenov, Nikolai A. Arutiunov, Dmitrii A. Aksenov, and Michael Rubin.  Electrophilically activated nitroalkanes in synthesis of functionally substituted 1,3,4-oxadiazoles from aminoacid derivatives.  Chem. Heterocycl. Comp.2022, 58(1), 32-36.
Michael Rubin, Nicolai A. Aksenov, Anton A. Skomorokhov, Dmitrii A. Aksenov, Igor A. Kurenkov,  Elena A. Sorokina, Nikita K. Kirilov, Mezvah A. Nobi, Alexander V. Aksenov.  Does electrophilic activation of nitroalkanes in polyphosphoric acid involve formation of nitrile oxides?RSC Advances, 2021, 11(57), 35937 – 35945.  DOI: 10.1039/d1ra06503c
Alexander V. Aksenov, Nicolai A. Aksenov, Elena V. Aleksandrova, Dmitrii A. Aksenov, Igor Yu. Grishin, Elena A. Sorokina, Allison Wenger, Michael Rubin.  Direct conversion of 3-(2-nitroethyl)-1H-indoles into 2-(1H-indol-2-yl)acetonitriles.  Molecules2021, 26(20), 6132;  DOI: 10.3390/molecules26206132 Link: https://doi.org/10.3390/molecules26206132
Dmitrii A. Aksenov, Nikolai A. Arutyunov, Amina Z. Gasanova, Nicolai A. Aksenov, Alexander V. Aksenov, Carolyn Lower, and Michael Rubin.  Synthetic studies towards benzofuro[2,3-b]quinoline and 6H-indolo[2,3-b]quinoline cores: Total synthesis of Norneocryptolepine and Neocryptolepine. Tetrahedron Letters2021, 82, 153395.  DOI: 10.1016/j.tetlet.2021.153395
Alexander V. Aksenov, Nikita K. Kirilov, Nicolai A. Aksenov, Dmitrii A. Aksenov, Elena A. Sorokina, Carolyn Lower, and Michael Rubin.  Electrophilically activated nitroalkanes in double annulation of [1,2,4]triazolo­[4,3-a]quinolines and 1,3,4-oxadiazole rings.  Molecules2021, 26(18), 5692.  DOI: 10.3390/molecules26185692
Alexander V. Aksenov, Igor Yu. Grishin, Nicolai A. Aksenov, Vladimir V. Malyuga, Dmitrii A. Aksenov, Mezvah A. Nobi, and Michael Rubin.  Electrophilically activated nitroalkenes in synthesis of 3,4-dihydroquinozalines.  Molecules, 2021, 26(14), 4274 (15 pp).  DOI: 10.3390/molecules26144274  https://www.mdpi.com/1420-3049/26/14/4274
Alexander V. Aksenov, Nikolai A. Arutiunov, Nikita K. Kirilov, Dmitrii A. Aksenov, Igor Yu. Grishin, Nicolai A. Aksenov, Huifen Wang, Liqin Du, Tania Betancourt, Stephen C. Pelly, Alexander Kornienko, and Michael Rubin.  [3+2]-Annulation of pyridinium ylides with 1-chloro-2-nitrostyrenes unveils a tubulin polymerization inhibitor.  Org. Biomol. Chem., 2021, 19(33), 7234–7245.  DOI: 10.1039/d1ob01141c
Pavel M. Yamanushkin, Marina Rubina, Michael Rubin. Amide-Directed Reactions of Small Carbocycles. Current Organic Chemistry, 2021, 25(14), 1686-1703. DOI: 10.2174/1385272825666210706124215